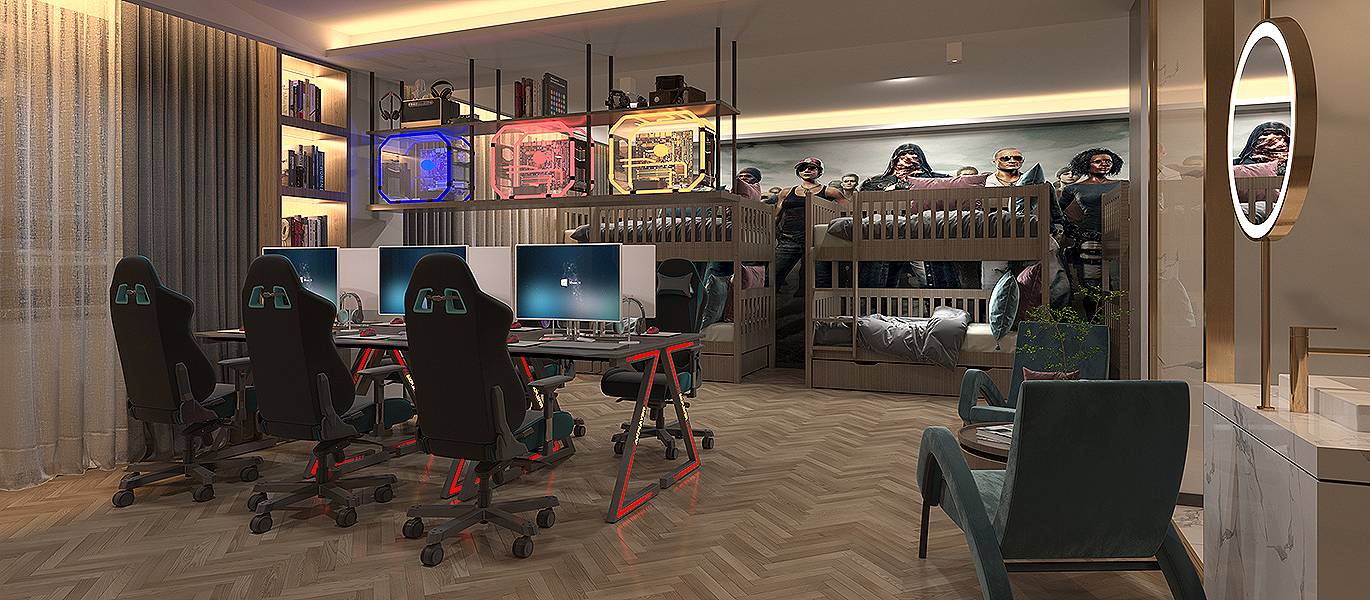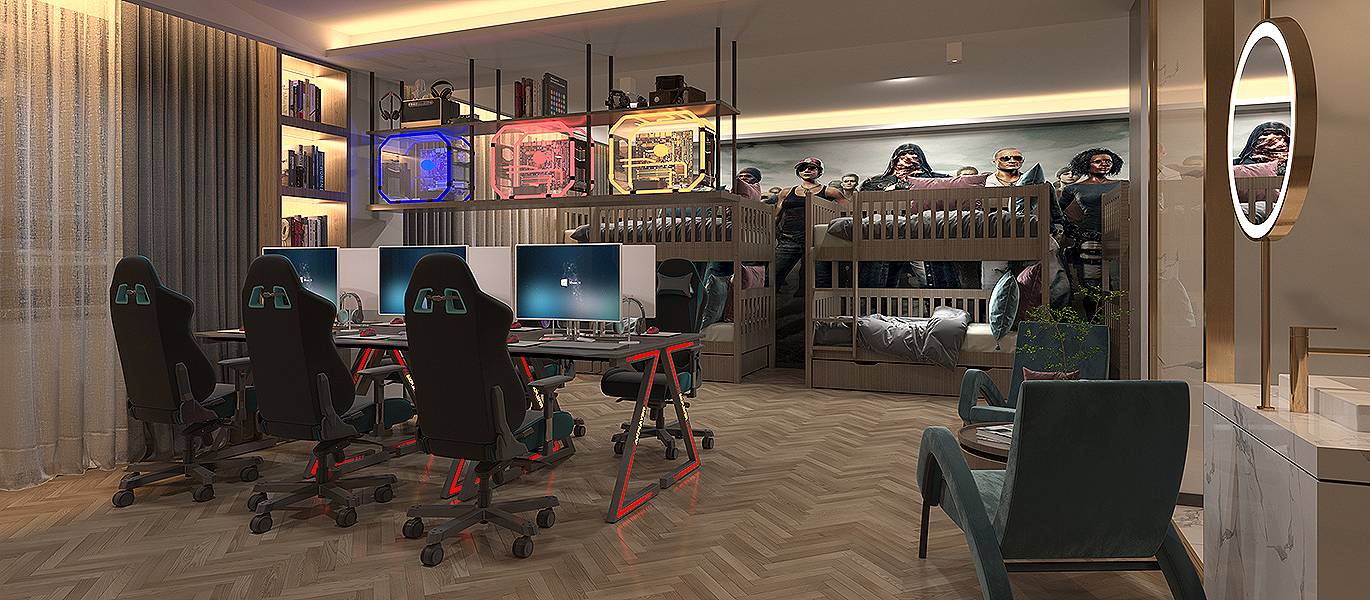 Game Furniture; Gaming Chair and Table Definitions & Photos
What is game furniture?
With all kinds of life or work pressures, games have become a way to relax. Playing games at home has also become an essential entertainment demand, so it is imperative to have a piece of exclusive game furniture at home. Game furniture is defined as a suitable home object that serves the needs of games. It can meet the needs of playing games at home. What's more, game furniture can help decorate a room for gaming, such as a
gaming chair and table
,
Bluetooth 
gaming chair... Moreover, gaming chairs and tables help solve the problem of not knowing how to organize the game room and choose the appropriate size for a game room. E-sports homes can improve the shortcomings of the original house and enhance the use of comfort. 
A room with a gaming chair and table can solve the problem is that people are looking for Internet cafes, and Internet cafes can not meet people's various needs.
 How to decorate the room for gaming?
We can change the room's wallpaper to the background of the game so that people are in the scene. Replace the lights in the room with game-like lights. In addition to the main game table and game chair, it can be equipped with some floor MATS, mice, headphones. For example, gaming sofa and gaming couch, black and white gaming chair, 
Bluetooth gaming chair 
are good choices. You can also choose the appropriate decoration style according to the number of people and the size of the room. If you want to play games with friends at home, you can choose a big and tall gaming chair or keep some plants on your desk to purify the air and prevent staring at a screen for too long from damaging your eyes.
 What are the types of game furniture?
Game furniture includes various kinds of gaming chairs and tables,
E-sports new 
categories cover e-sports table, Bluetooth gaming chair,
e-sports chair, desktop, and other large furniture; Also include 
cup holder, mouse thread clip, neck pad, pillow, mobile phone bracket ring lamp, floor pad, and other household accessories The choice of game furniture is very diversified and private. We can choose the game furniture suitable for ourselves according to our game environment, the size of the game room, and other factors.
 What is a gaming chair?
 It is defined as an epoch-making new product that subverts the traditional seat concept, breaks the conventional seat manufacturing process, and changes the conventional material of the seat. Gaming Chair and table is usually the best choice for playing games. It follows the unique humanized design concept and conforms to ergonomics. The light cavalry gaming chair adopts high-grade automobile perforated leather, which is beautiful and generous. It has three characteristics: wear resistance, scratch resistance, and high-temperature resistance. It has good air permeability and is convenient to clean. The product design is fashionable, simple, and generous.
What are the more details about gaming chairs?
Comfort: sedentary and not tired. Its cushion adopts an advanced automobile perforated leather design, which has strong air permeability and gives you a new experience for your hips. The back design has strong wrapping, which can reduce the compression of the waist. It adopts a high-grade automobile shaping sponge, which does not fall off... You can choose the best size for yourself, and adult gaming chairs are more suitable for adults. Bluetooth gaming chair is also an excellent choice to enhance the sense of experience
Fashion: ergonomic design, comfortable. The design curve is beautiful and fashionable. A variety of colors are available to make your video game city more stylish and dynamic.
For example, the black and white gaming chair is more atmospheric and straightforward, and the purple game chair is more elegant.
Price
:
Its 
price is higher than an office chair because its comfort, material, and beauty are much higher than an ordinary office chair. For example, best office chair under $100, best gaming chair under 200, and best ergonomic office chair under $200
Sleeping: When you need to lie down and rest, pull up the backrest tilt handle, you can slowly put the backrest down and release the grip to lock the current tilt angle. Let you maintain a scientific, comfortable, healthy sitting posture; although many people can use a cushion for leaning on now because each person's height is different, a cushion for leaning on is always put less than appropriate position to use instead of more awkward. E-sports chair as a complete reference to human engineering, waist pillow, and head pillow can be removed, or move up and down, no matter what body type, can provide comfortable and practical support.
And its armrest can be up and down, left and right, before and after adjustment, always can give you the most comfortable experience, let you maintain a healthy, scientific sitting position! And turn into a bed in a second! ? Give you a break from your busy.
What's the difference between a gaming chair and an office chair?
The structure of the ordinary chair is straightforward, the back of the chair is stiff, so you need to get up and drag the chair to move.
The friction between the chair and the ground makes people upset. The derivative evolution of esports chair is to weaken these disadvantages, the technology into life, everywhere is friendly and intimate details. For example, the structure of the e-sports chair is larger than the ordinary chair.
According to ergonomics, the chair body line is designed to ensure that it can fit the human skeleton. Even if you sit for a long time, you will not feel tired, and achieve sitting is more comfortable than lying.
The back of the chair can be adjusted 90-160 degrees reclining, but also with a happy function, when you have a long office or game, change the back of the chair at any time to rest, fatigue immediately swept away.
What are the advantages of a Gaming Chair in terms of performance and maintenance?
Durability:
The material of the connector is very thick, with good bearing capacity, firm and durable material
On the other hand, it is straightforward to take care of. Just wipe off the surface stains with a rag in daily life.

Net cloth surface:
1 found that there is dust The net cloth can be blown with a hairdryer for 1-2 minutes;
2. Found that the net material is dirty, and it is recommended to use a wet towel, drop a drop of detergent, and gently wipe the dirty place for 1 minute. Chair foot: Due to the use of metal plating on the feet of some staff chairs, attention should be paid to the maintenance:

1. Do not use water to wipe; use the cloth dipped in a little oil care;
2. Do not put the computer chair in intense light and high temperature;
3. Often wipe the chair feet with fine flannelette to keep them bright;
4. Avoid rubbing and bumping against other complex objects.
What is a Bluetooth gaming chair?
Bluetooth gaming chair is not just an E-sports chair; and it also has a built-in Bluetooth speaker that provides surround music. Users can connect it to other Bluetooth devices such as smartphones or tablets, stream their favorite music, watch movies, and play games. With its wireless Bluetooth speaker and cool atmosphere light, it saves a lot of space for your computer desktop; Bluetooth gaming chair is a prevalent choice at present.
What are the more details about Bluetooth gaming chairs?
Material
analysis: Bluetooth gaming chair is made of hydrolysis resistant and antioxidant PU leather, which is elastic, comfortable and durable, durable, smooth, and anti-static. Breathable polyester mesh fabric, polyester reinforced elastic silk, breathable and comfortable. PP is brand-new, high-temperature resistant, and durable. Bluetooth gaming chair's Soft PU wheel is adopted, which is anti-skid and silent without damaging the floor.
Comfort: Bluetooth gaming chair also has a strong metal frame and a thickened backrest to provide comfort. The metal frame helps to improve the user's convenience. The headrest and lumbar support pillow can be removed and adjusted according to the user's needs.
Additional
details
:
In addition to the speaker, the 
Bluetooth gaming chair also has a retractable footrest. If the user sits next to the computer and plays games, he can put down the footstool. When you need to listen to music, you can lift it and relax your body and mind.
Durability: Bluetooth gaming chair's cushion is made of high-density foam. It is durable, stable, and comfortable. Fine and pure texture, pressure resistance, high-temperature resistance, environmental protection, and durability. A soft PU wheel is adopted, anti-skid, and silent without damaging the floor.
What is the point of a gaming table?
 At first, an E-sports table was a game computer table especially designed for e-sports game events. It was very different from an ordinary computer table: in terms of shape design, the shape of the E-sports table was changeable and relaxed, which brought a hot-blooded atmosphere to the game; In terms of functional design, the e-sports table is robust and more suitable for game players' needs. Esports tables are designed to make people comfortable playing games. It has many human features in the design. Tilt the table slightly and even adjust its height for smoother mouse movement. It meets the need for people's entertainment, but people can also work on the desk.
How to choose the right table for the game?
In terms of color, there are many colors to choose from on the gaming desk. The pink game desk is more lively, and black is more atmospheric. In terms of size, you can select the appropriate E-sports table according to the size of the room and the number of people playing games. The wide gaming desk is more suitable for multiple people. If you need to make more personal choices, you can choose the adjustable height gaming desk according to your needs. Self-adjusting height: You can select the right price by yourself in terms of price. You can compare the price of ordinary tables.
For example, best desk chair under 200. In terms of function, you can choose multi-functional E-sports tables according to your own needs, such as video game desk and ergonomic game desk
.
What is a good size table for gaming?
 Game e-sports table manufacturers in the setting of the size of the design according to the principle of artificial science, so the actual height is appropriate. Generally, the Gaming chair and table dimensions are compatible with each other. The height of the game esports table manufacturers has a conventional size, typically 70cm or 75cm. Choose spacious, comfortable table design width, easy to operate.
What is the difference between a gaming desk and a regular desk?

 
 E-sports table uses ergonomic design, the so-called ergonomic design is, generally speaking, letting the tool adapt to their own, rather than their initiative to adapt to the agency. The structure design of the e-sports table, atmospheric and straightforward appearance, and strong, stable bearing capacity. The ordinary desk is More convenient for office use, a computer is just a tool of office, not all, so ordinary desk is boxy. While the e-sports table is specially designed for playing computer games, many times consider the user to play the computer seat posture, and then prepare support according to the sitting position.
More importantly, the sense of experience is also different. When you play games on an ordinary table, the importance of expertise must be less than that on a professional E-sports table. Whether equipped with devices or a game atmosphere, a particular gaming chair and table are a good choice.
Should my desk face a window?
It's better to face the wall. This is because meeting the window, if there is sunlight through the window, then the computer screen and natural light will have a great contrast, people will feel dazzling, and it isn't easy to discern the content on the computer screen. This can cause eye damage in the long run.
What are the benefits of buying a gaming chair and table Bluetooth gaming chair at home?
 With the game's popularity, it has become a tool to relax and release pressure in spare time. It is delightful to have a particular space at home to meet your needs. Gaming chairs and tables can meet the demand of immersive game playing at home, which saves the service cost and time cost of playing games outside and meets the need of playing games in time. Bluetooth gaming chair is also a good choice. Gaming chair and table I hope that having a particular game space at home can bring you unexpected pleasure.
Amiel Desk, Black 92877
Specifications Place of Origin Taiwan, China Main Color Black Main Material Metal & Wood Dangerous Goods #dangerFlag# Dimensions & Weights Assembled Length (in.) 47.00 Assembled Width (in.) 24.00 Assembled Height (in.) 41.00 Weight (lbs) 69.00 Description Item No. 92877 Collection...
Your cart is currently empty.
Shipping
Taxes and shipping fee will be calculated at checkout