Tv Stand Decor Ideas to Make Watching TV More Enjoyable
Tv stand decor can make a huge difference in your space, whether you're watching a show or connecting your television area to the rest of your interior. However, before shopping for a Tv stand decor, you first have to know what Tv stand decor style will fit best with yours.
If you have a vintage console, pair it up with distressed wooden pieces such as white bookends or trays with the same antique vibe. If your TV tray stand is more rustic or country-style, texture wood bowls, clay pots, wicker ball ornaments, and metal buckets would look great alongside your stand. Tv stand decor is almost the same as accessorizing
a fireplace  mantel or a coffee table. You must balance the elements you'll be incorporating to make it interesting and visually pleasing. You can achieve movement by playing with heights, form, textures, and colours and by layering or stacking pieces on top of each other. You also want to balance it out, as you don't want to make the Tv stand decor so busy that it distracts the people from watching. These Tv stand decor ideas will inspire you to elevate the look of your current TV stand.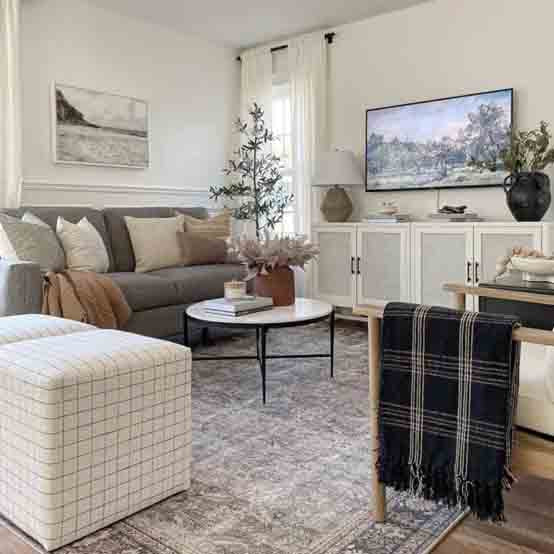 1.Balancing Heights
Use different decor items to balance it out, put two tall items at each end of the tv stand cabinet to add height, and use short items to fill the space in between. This is a universal tv stand decor. The TV stand uses a lamp and a vase filled with ferns to highlight the sides, with a small metal sculpture of a stack of books and a decorative tray in the middle.
2. Black Tv stand decor
The idea of black Tv stand decor may not be a common choice, but this colour perfectly matches country-style TV stands decor. Tall black jars are used as vases, echoing the rustic texture of the cabinet door, while metal strut candlesticks on the other side add a reflective effect without ruining the colour scheme.
3. TV Stand Shelf Ideas
If you have open shelves under your TV, combine storage and decorative items as part of the display. Here, books on the upper floors are paired with small sculptures. The lower level has lanterns at either end, while the middle two cubes contain wicker baskets for extra storage. Because the TV has a wall panel design behind it, the top of the TV stand uses minimal decor, like a black bowl matching the TV stand and a wooden tray with potted plants to add height and colour.
4. TV stand rustic and Textures
Enlarge your living room with boho TV stands for rustic ambience Tv stand decor. The top of the TV stand is decorated with a large clay pot and a wooden tray filled with metal and wicker balls. Each shelf under the TV rack has a textured basket or wooden decor that adds warmth to the grey metal doors. The layering of the work gives off a curated, living atmosphere.
5. Garlands and Topiary
Celebrate the arrival of spring by adding plenty of greenery to your TV. At the top of the console is a lush wreath connected to two potted plants placed at either end of the TV stand, adding height to the composition. Decorative arches at the top frame the TV, enhancing the retro vibe of the space.
6. Wicker and Wood TV stands decor
The rustic texture of these wooden shutters provides a beautiful contrast to the white planking walls and perfectly matches the TV stands. They are ideal backgrounds for small wooden tray illustrations filled with antique decor. The wicker basket in the centre brings a different but similar touch and completes the composition.
7. Soft in White
A refreshing sight, this TV cabinet is topped with a pile of white modern TV stands decor items such as books, antique bookends, vases and POTS that bring subtle contrast to the light-coloured wooden furniture. Plants, metal lights and wire baskets add colour to the TV area without destroying its soft nature.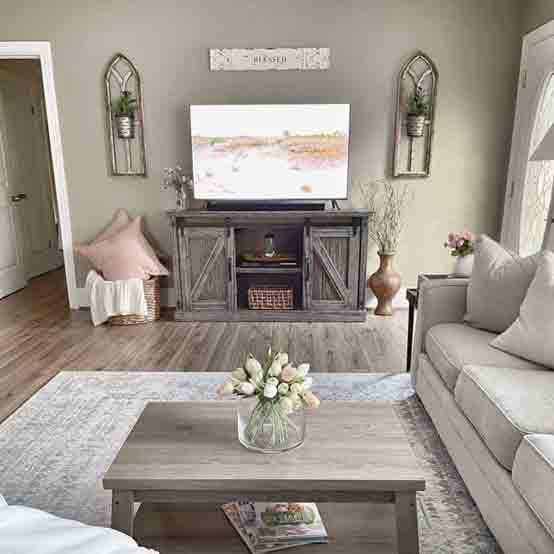 8. A Tray of Leaves
This long wooden trough is filled with leaves and seamlessly fills the space between the TV and TV stand solid wood, complete with antique jars and picture frames. Its rich wood finish also matches the TV stand,
creating a cohesive look.
9. Miniature Furniture Stands
Unique to Risers, these miniature peacock chairs lend ideal height to some tiny glass bottle vases. They also exuded a fresh, tropical smell that went well with wooden bowls and wicker baskets filled with plants.
10. Pots and Vases in Neutral Shades
White furniture paired with warm neutral tones gives this white fireplace TV stand a quiet elegance. A grey vase on one side adds depth to the composition, connecting to the black-and-white scheme of the TV console, while an earthenware pot on the other end connects the room's rich brown shades to a white stand.
11. Swords and a Bucket of Plants
These charming wooden TV stands use unique elements, such as a wooden sword on the wall above the TV and a tin bucket filled with plants. The plant compartment on the adjacent wall is a nice addition, adding a natural touch to the TV area.
12. Soft Gray Tv stand decor
Elevate the dreamy feel of the soft grey TV stand by matching curved decorative pieces such as Nordic wooden bowls filled with wooden decor and cylindrical vases filled with fresh leaves stand for TV trays. The vintage artwork projected on the screen adds a romantic character that matches the chalet's aesthetic.
13. TV Gallery Wall
Frame your precious family photos and make a gallery wall around your TV. The black-and-white colour palette of these framed images perfectly matches the rustic neutral scheme of the room.
14. Modern Bohemian Florals
Decorate your little girl's TV cabinet with pastel flowers, and decorate your little girl's bedroom. Please put them in a vase or weave a wreath for a cosy boho cottage style. Combining floral accents with metal accents and their favourite photos in cute frames, make this space truly their own.
15. Lit Garlands and Candlesticks
This black Tv stand decor features a leafy wreath filled with fairy lights. Add some thin black candle holders and small wooden Christmas trees on the sides to bring some height and vibrant colours to the space for a minimalist but festive look.
16. Neutral Tv stand decor for Christmas
Follow a palette of white and wood in your home to create this comfortable and inviting look on your Tv stand decor. Here, soft red and green hues from the Santa Claus statue and plants add some colour to the composition, while white and wooden lanterns next to the sign add some height. Projecting a snowy image onto the TV frame is a great way to add some Christmas-themed art to the TV console.
Everyone has found their favourite style with some of the above Tv stand decor ideas. Before decorating, there are several things that we must check.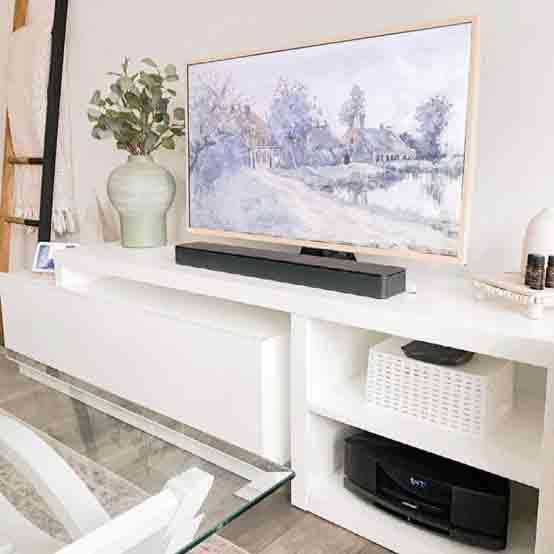 1. The height and size of the television
Consider the location, size and height of the television. The placement of furniture and decorations affects how big or small everything in the area looks.
If you have a smaller TV, put it on a tall entertainment system or mount it on the wall. If you have a large or tall TV, try using a shorter stand to prevent it from being too high and forcing you to look up while watching your favourite show.
Also, consider your ceiling height. Choose an entertainment system lower than the ground to make a room with a low ceiling look larger.
2. Choose Your Style
Before you start looking for specific pieces of furniture for the space, choose your style. To make the space feel more organic, try mimicking the style of the rest of your home.
Use natural hues like green and yellow to help your outfit stand out if you're rustic. Tie your home together with antiques to give it a rustic vibe.
If the rest of your home is decorated with industrial designs, use metal finishes and one-of-a-kind pieces that feel new. A one-of-a-kind metal lamp or mirror would be the ideal finishing touch to this room.
Try wooden accessories such as mirrors or wooden family photo frames for homes with a mid-century modern feel. Adding a personal touch will always make a space more welcoming and enjoyable.
Here are a few ways to make our TV stands decor more beautiful
1. Keep it neat
The best way to make your TV stands decor area shine is to eliminate all distracting clutter. Keeping this space free of unnecessary knick-knacks or oversized decorations is key to enjoying your favourite movie after a long day at work. It's hard to relax when there's too much going on in one space. Try to find a good balance and still have space in the stands to make it feel open. Use only items that make sense or fit perfectly with your home's style.
2. Use emotional films
Since your entertainment space should only have a few items to keep tidy, try adding sentimental items. Using family photos, family heirlooms, or historical artefacts from the past will make this entertaining space personal and inviting to your guests. Try to keep it simple here, using small picture frames or decorations. It's important to focus on the TV, so using sentimental objects smaller than the TV can help your eyes see the TV first.
3. Incorporate Different Textures
Working in a small space, such as on a TV shelf, means your options are limited, so you have to make every piece of decoration count. Using different textures, you can make the space look full and not need to wrap the stand with unnecessary decorations. If your home is farmhouse style, use burlap or woven baskets.
Try to find a metal lamp and leather trim Tv stand decor for an industrial-style home. This is a good place to experiment with different texture combinations, as you will be working with small pieces and have the ability to mix and match within no more than your budget. An easy way to add texture to this space is to use a unique shape or texture for vases and flowers that keep things fresh and unexpected.
4. Use fresh greens
Using fresh flowers and greenery in this space can bring life and warmth without too much space. It makes the entertainment space feel alive and moving, which is a very cheap option. Flowers are a great way to make a room feel warm and inviting. It's a peaceful way to decorate your tv stand furniture while bringing some colour to the space, and the best part is that it's a non-distracting option.
5. Keep the colour neutral
Whether your style is industrial, farmhouse, or mid-century, neutral colours are a great way to mix it up and make your entertaining space feel calm and warm. Use neutral colours to eliminate distractions when you're watching the latest shows. Keeping larger decorations medium allows you to use small pops of colour, such as flowers or photos you display. Try to use neutral-coloured light fixtures, vases, and picture frames in this space to avoid distractions or make the space feel irresistible.
Tv stand decor Ideas Your Way!
TV Stand decor is very important. TV Stand decor is the most prominent landscape in the living room. In the decoration design of the living room, it is particularly important to choose the right TV cabinet.
As the character of young people is becoming increasingly fashionable, some traditional decoration methods can no longer meet the needs of contemporary young people. It has always been the pursuit of young people to refuse all mediocre design styles and walk at the forefront of fashion trends.
Entertainment centres should not be neglected as crucial decor points. Be sure to start working on your space and develop some interesting ideas you love. Enjoy the process and have fun sprucing up your space! I hope you can find a suitable tv stand decor for yourself.